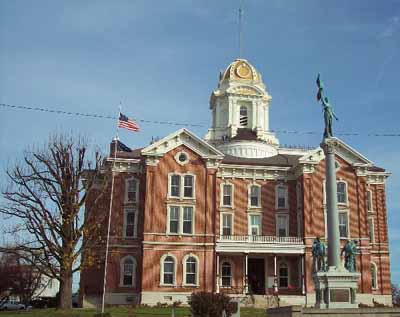 County Courthouse
PO BOX 745
Mount Vernon, IN 47620-0745
Phone: (812)838-1300
Website: http://www.poseycountygov.org
Hi, My name is Sharon Wick
I am the Creator of Ohio Genealogy Express, however
I have ties in some counties in Indiana and other states.
I have decided to put my research data online for all others interested
in theses areas to see.
Thanks for visiting.
BRIEF HISTORY
Posey County was formed on November 11, 1814 from Gibson and Warrick counties. It was named for Revolutionary War Gen. Thomas Posey, who was then serving as Governor of the Indiana Territory. Mount Vernon became the county seat in 1825.

POSEY COUNTY MAP


County Seat: Mount Vernon
Year Organized: 1814
Square Miles: 409.57

Cities & Towns
* Cyntiana
* Griffin
* Mount Vernon
* New Harmony
* Poseyville

Townships:
* Bethel
* Black
* Center
* Harmony
* Lynn
* Marrs
* Point
* Robb
* Robinson
* Smith

Other:
* Barrett
* Blairsville
* Bufkin
* Bugtown
* Caborn
* Dead Mans Crossing
* Erwin
* Farmersville
* Grafton
* Hepburn
* Heusler
* Hovey
* Lippe
* Marrs Center
* New Baltimore
* Oak Grove
* Oliver
* Parkers Settlement
* Philip Station
* Prairie
* Rapture
* Savah
* Solitude
* Springfield
* St. Philip
* St. Wendel
* Stewartsville
* Upton
* Wadesville
* Welborn Switch
* West Franklin





Adjacent Counties:
* Gibson County - North & Northeast
* Vanderburgh County - East
* Henderson County, Kentucky - Southeast
* Union County, Kentucky - South
* Gallatin County, Illinois - Southwest
* White County, Illinois - West and Northwest

INDIANA GENEALOGY EXPRESS
FREE GENEALOGY RESEARCH IS OUR MISSION
A part of US Genealogy Express